Know Us
By growing slowly and steadily in the engineering business, we, Ultra Fabtech have come a long way. The success we enjoy today is the result of years of hard work that we have done to impress our clients. Although, we have gained immense popularity in the market, yet we persistently work to offer our clients the best gamut of Automatic Pad Vending Machine, Kitchen Appliances, Kitchen Burners, Trolleys, Sheet Metals & Fabricated Components and more. It is the hard work of our employees that has made us maintain our position as a manufacturer of aforesaid and more products in the market. Top quality material is used for engineering our product range and make sure that all defects are eliminated in the first place itself. This is why; we have been able to retain our clients for such a long time period.
Why Us?
Work environment- Who does not prefer associating with a company that puts no pressure on its employees and ensures timely order completion? Everyone dreams to tie knots with such a company. And, Ultra Fabtech is one such business entity that maintains healthy and positive work environment to benefit both our employees and clients.
Assured quality- We follow total quality management techniques from the initial stage itself for offering our clients only the best range of Stainless Steel Round Mirror Brackets Die.
Employee safety- We have documented a policy at our company which states that employee safety is our top priority. And, we provide them all the benefits as imposed by the government and the industry.
Research and Development
Assisted by qualified research analysts, we have been working hard to offer only the best to our clients in the form of our Kitchen Appliances, Kitchen Burners, Trolleys, etc. Investment in research and development department is done on regular basis to ensure we maintain a pace with the latest technology. Moreover, it is because of our researchers that we have been able to gather all the information about the dislikes and likes of our clients and then provide them with the products and services of their choice.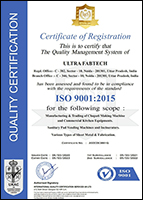 Read More